Facebook — what began as a social networking site has become a powerful marketing machine, especially for real estate agents. Do you know how to use Facebook to track down new leads, reach your target audience, and sell more houses? Learn the Do's and Don'ts for Posting Real Estate on Facebook.
Even if you're on the social media platform, knowing real estate Facebook marketing best practices takes time, trial and error, and plenty of grit. Luckily, we know a thing or two about getting the most out of your Facebook marketing efforts as a real estate agent. Here's what you need to know.
Real estate agents are finding a home on Facebook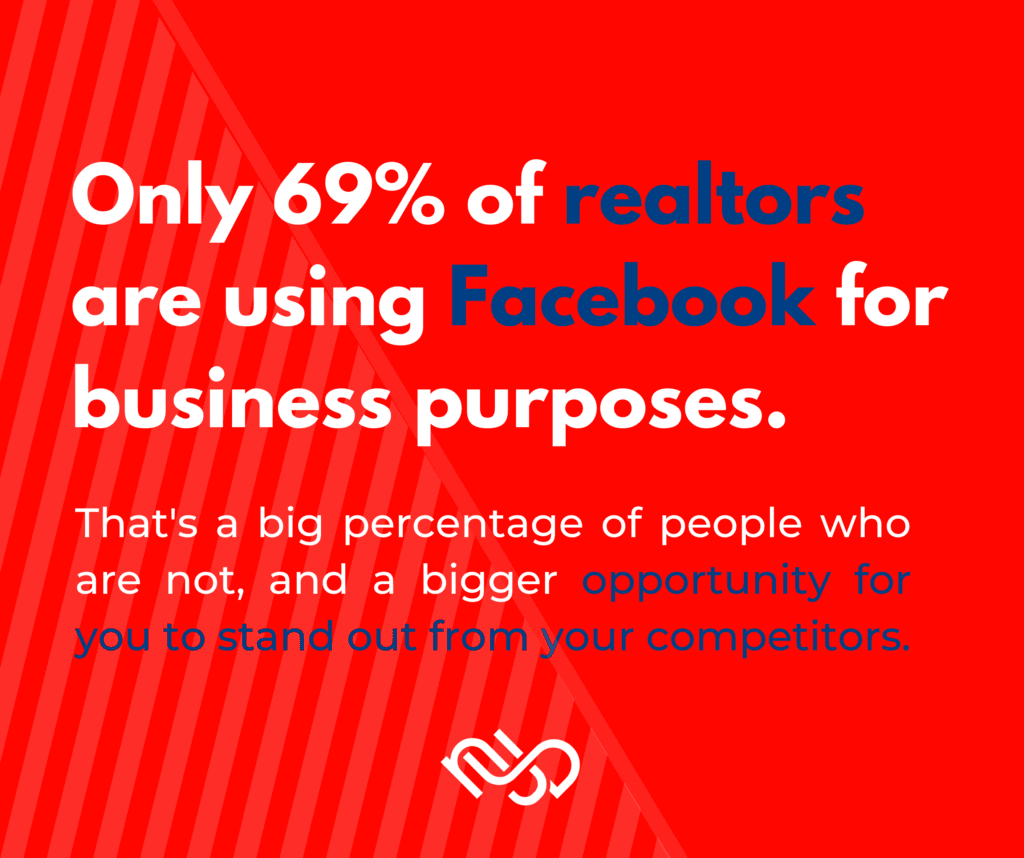 Nearly 80% of realtors use social media and 69% report using Facebook for business purposes. The networking giant is the perfect online environment for finding leads and networking. With just over half of buyers finding the home they purchased on the internet, creating a presence on Facebook is a requirement for today's real estate agents.
What are real estate agents posting on Facebook?
So, what seems to be the go-to post for realtors on Facebook? An impressive 63% are using video marketing, much more than most industries. But it makes sense when video generates 1200% more shares than text and images combined (yes, one thousand and two hundred percent more).
Of course, property listings are a popular post choice for real estate agents as well. While video ads are the most engaging marketing tactic for realtors on Facebook, nearly 20% of Facebook users find property listings to be the most engaging.
But what if you've tried it all and Facebook marketing isn't working?
Put simply, realtors are turning to Facebook because the marketing works…as long as you're approaching it with the right mindset. Too many realtors shy away from Facebook marketing because their organic reach isn't making an impact in their leads list or sales.
We find that when real estate agencies or agents fail to see the success they thought Facebook would bring, it's because they aren't posting the right content for their audience. They struggle with the do's and don'ts of posting for real estate on Facebook.
As a realtor, here are a few questions you should answer before engaging with your audience over a Facebook post.
Who is your audience?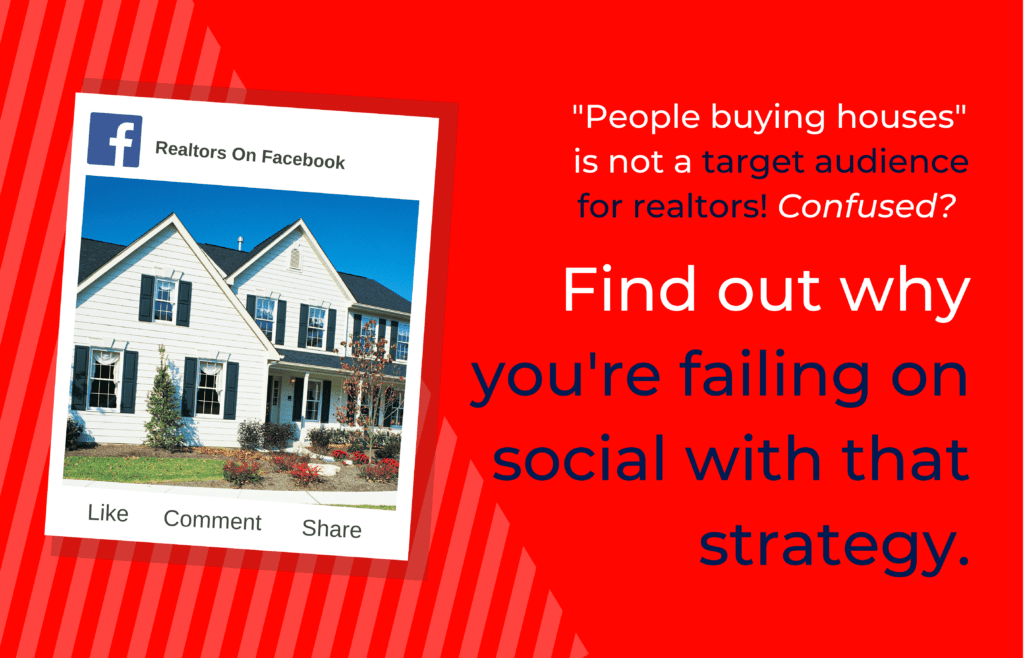 People buying houses! And people selling houses! And people downsizing! And…sorry, we have to stop you right there. What you're listing are groups of people who work with realtors. They can't all be a part of your target audience. While you don't have to turn down quality leads who come your way just because they don't fit your target client base, you should tailor your digital marketing efforts to one group. It's always better to have 100 engaged Facebook followers than 10,000 who will never have a need for your services.
How are your posts impacting your brand?
A lousy post doesn't just bring out the crickets on Facebook. It can do some serious damage to your brand. Would you put out a mailer with spelling mistakes or without your logo? The same branding rules apply to Facebook as any other marketing content. Make sure you're following the rules by practicing consistency and having high standards.
Are you using quality images?
Speaking of high standards, what message are your images sending? Blurry or low-resolution pictures speak negatively about your attention to detail and can have the opposite effect on your marketing efforts than you intended. If you struggle with photography, let a professional step in and make sure your listings and Facebook posts are visually appealing.
Tips for realtors posting on Facebook
Ready to make real estate Facebook marketing work? Here are our top real estate marketing tips that will help boost organic growth (because paid growth will destroy your online reputation)
Avoid throwaway posts
We've all heard the advice about consistent content. But simply posting every day isn't enough. If your posts don't have anything to offer, they're most likely doing more harm than good. Instead, stick with the following Facebook posts for real estate agencies that have a bit more bulk.
Listing albums – Of course you should be sharing listings. But one way to boost organic reach is to post albums of your listings. When users are only getting a preview of a post, which happens with albums, they're more likely to click through.

Success stories – Show off your (and your clients') success by posting their photos with a "sold" sign or their new key. But don't stop at congratulations. Tell their story. Show that you create an experience for your clients that the competition can't. Also, your new happy homeowners will likely share the post (and again each year when they're reminded of the memory) to boost your organic reach.

Renovation ideas – DIY posts are great for engaging new leads and past clients. They're also great for getting shares. But don't drop a Pinterest link and walk away. Get a little dirty. Are you painting your living room? Document the process, including any mistakes you make so your followers can avoid learning the hard way.
Become a local expert
When you're looking to grow a real estate agency's page on Facebook, it should come as no surprise that you want to target "local likes." The best way to do that is to keep your reach local as well. Sure, you can share a news story from a nationwide publication but why not share a relevant article from a local journalist or paper? Post about local events to prove you're involved in the community. Find ways to showcase the impact you make on your target audience.
For example, if you target relocating families, share information about local indoor play places during the winter months or your favorite family-friendly outdoor restaurants in the summer.
Stand out from the competition
Every agency offers "exclusive listings." So many that they're really anything but exclusive. So how can you stand out from the competition? Offer more value. Create an exclusive group from your Facebook page where members can discuss local events and happenings. Host home buying webinars on Facebook Live (live videos can reach twice as many organic viewers as posted videos). Before you post anything to your Facebook page, ask yourself if it's differentiating you from the competition or making you blend in.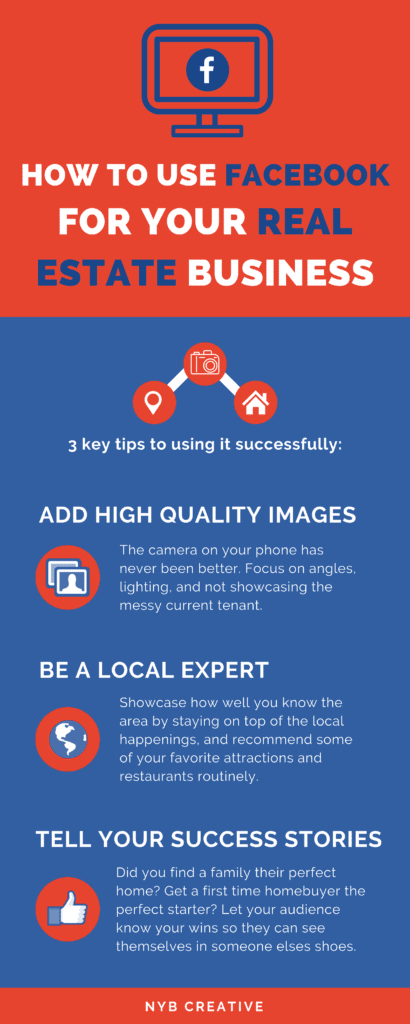 Final thoughts on posting real estate on Facebook
Let's end with one final question. Can just anyone sell a house? Technically, yes. But a real estate agent can sell a house a whole lot better than anyone else.
Can anyone put together a Facebook post? Sure. But if you want to have real estate Facebook posts that target, engage, and boost your brand, work with a qualified digital marketing agency that specializes in real estate content (hint: that's us). Reach out today to see how NYB Creative can extend your organic reach and help you grow within your community with our great Facebook post ideas for realtors.